Who am I?
I'm Nathan Rasmussen, a fisherman and student all at the same time. I am 17 years old, and have fished my whole life. Right now as of February I am in the middle of my school year. The lakes recently have just un-thawed from winter and I have started to shift my focus from river fishing for steelhead back to bass fishing. The winter here is usually quite mild and sometimes I can bass fish year round, although in the past years the winters have been too cold and the lakes, covered in ice.
Where am I From?
I am from Vancouver, British Columbia, Canada. I have lived here for most of my life although I have spent time living in southern california.
How did I get into fishing?
I have always been keen on the outdoors and been exposed to them since a young age. My whole family has always been into fishing, but mainly salmon fishing in the ocean from a boat with downriggers. I on the other hand always liked to cast and the hunting mindset associated with bass fishing
What pushed me to start swimbait fishing?
The push was really when I first saw a trout stocking at my local lake. I had never seen such behavior exhibited from such a large caliber of fish, plowing into the stocker trout which ranged from 6-12 inches in length. The other factor has always been that i've always wanted to catch the biggest fish in any body of water, and to keep pushing forward. The other reason was that catching small bass just stopped being fun for me, I would much rather spend hours on the water searching for the one right bite than picking through masses of smaller fish to accomplish the same thing, swimbait fishing is to this day, the most effective way to target the biggest bass in any body of water.
Who were your influences?
My main influence were people like Butch Brown, Matt Newman, Bill Siemantel, Matt Allen/Tim Little and Mike Long. All those guys above have done what most people only dream about and have left their mark on the whole bass fishing community.
Whats my PB, Swimbait and conventional?
My personal best on a swimbait from canada is a 9lb 12oz largemouth out of a small trout stocked lake. My conventional personal best up here is 9lbs 8oz on a spinnerbait. Both fish are from public waters in British Columbia.
What are my combos, rod/reels/line?
At this moment I do not have a lot of rods and plan on adding quite a few more to my lineup. But right now I have :
Rods :
- Dobyns Fury 795 (1-5oz)
- Dobyns Champion XP 807(3-10oz)
- G.Loomis IMX 957(4-10oz)
- Palehorse Customs 869 XH (8-12oz)
- F5 Custom Rods 869H (2-8oz)
Reels :
-2 Shimano Calcutta Conquest 400
-Shimano calcutta 400TE
-Daiwa Z2020H
-Daiwa Lexa 300H
-Daiwa Tatula 200HD
Line :
-Seaguar AbrazX
-Seaguar InvizX
-Sunline FC Sniper
-Power Pro original braid
What specific things do each of your combos do that suit your fishing style?
Dobyns Fury 795/Tatula 200Hd or Lexa 300H : This is my bread and butter combo for smaller swimbaits such as the deps 175, DRT tiny klash, 8 inch triple trout, weedless swimbaits and the BBZ rat 50. I run 20 lb seaguar InvizX on the tatula and 65lb power pro braid on the Lexa, the only time I use my lexa is if i'm fishing a topwater bait. I personally dislike braid for my big bait applications
Dobyns Champion XP 807/Calcutta 400TE : This is my 8 inch huddleston rod, I use that bait on this combo almost exclusively when the water temperatures are below 65-70 degrees fahrenheit. Above those temperatures I throw my larger weedless baits on it such as the 8 inch weedless rising son, but I throw a variety of baits on it. I run 20 or 25 lb seaguar AbrazX on this rod
G.Loomis IMX 957/Calcutta Conquest 400 : I use this combo for my larger soft baits, mainly the baitsmith magnum, rago alfa trouts/soft tools, 10 inch hudds. I have also thrown hard baits on this rod such as the deps 250, 10 inch triple trout, hiroshima customs godzilla/10 inch trout, but I found this rod to be better suited towards larger soft baits. I run 25 lb seaguar InvizX on this rod
Palehorse Custom/Calcutta conquest 400 : I use this rod for large glide baits such as the deps 250, hiroshima customs godzilla/10 inch trout, I have also taken a liking to throwing the 316 10 inch freestyle sport on this rod because it has a nice tip section that enables me to work the bait better. I run 25-30lb test AbrazX on this rod.
F5 Custom 869H/Daiwa Z2020H : I do not have this combo in hand yet so I can only speak on what I plan to do with this rod but don't know how it will perform. My idea for this rod is for the medium size hard baits such as the hiroshima custom 8.5 inch hard/soft tail glide baits, hiroshima customs gillrilla, gan craft jointed claw 230 and the deps 250. I plan on running 22lb Sunline shooter fluorocarbon on this setup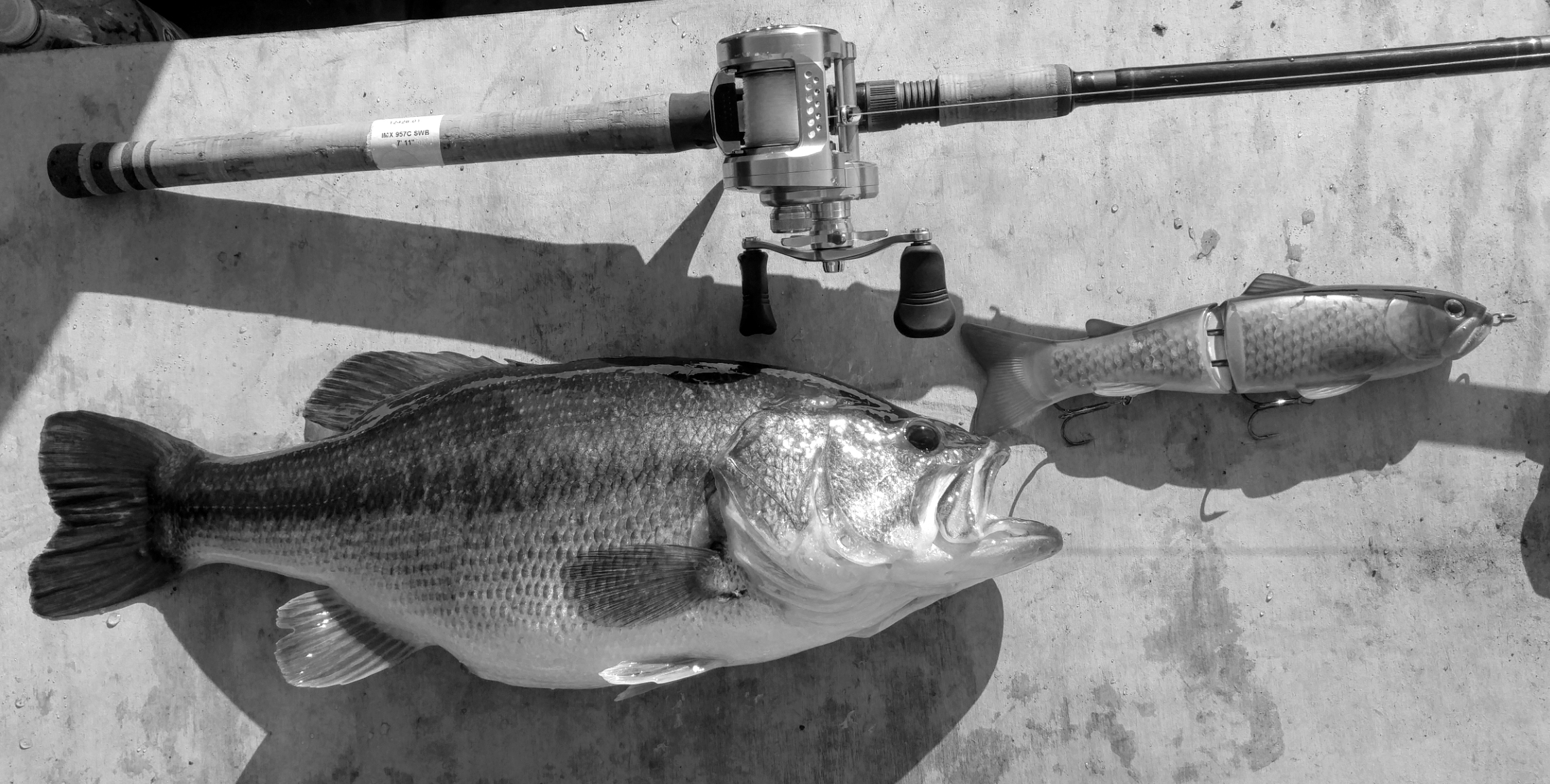 What's your favorite swimbaits?
My top 5 favorite swimbaits are as followed in no specific order
-3:16 weedless rising son
-Slow sink baitsmith magnum
-Original Deps 250
-Hiroshima customs Godzilla
-3:16 Slow sink freestyles (6-10 inch)
The reason I like these following 5 baits is because they suit my style of fishing, but more importantly the fish around me like those baits a lot and those 5 allow me to fish all seasons, weather conditions, water clarity or time of day thrown at me.
What is the fishing patterns for bass in BC?
The fishing in British Columbia consists of man made lakes, medium natural lakes and sloughs. My local lakes are all largemouth lakes and there are a handful that are stocked with trout. There are also other lakes with smallmouth nearby me that I fish that are more clear, rocky and hard bottom. The lakes around me have mud or sand bottom with some chunk rock every once in a while. Lots of weeds, almost too much at times. Also there is wood in all of our lakes, either laydowns or sunken logs. Our water clarity varies but on average it is clear but not super clear, this the reason I use fluorocarbon lines.
Which fishing pattern do you prefer?
I prefer fishing hard bottom lakes with lots of standing structure and docks. For example I love fishing laydowns and standing grass (like tules or cattails), and docks because fish relate to them very well when we have them in our lakes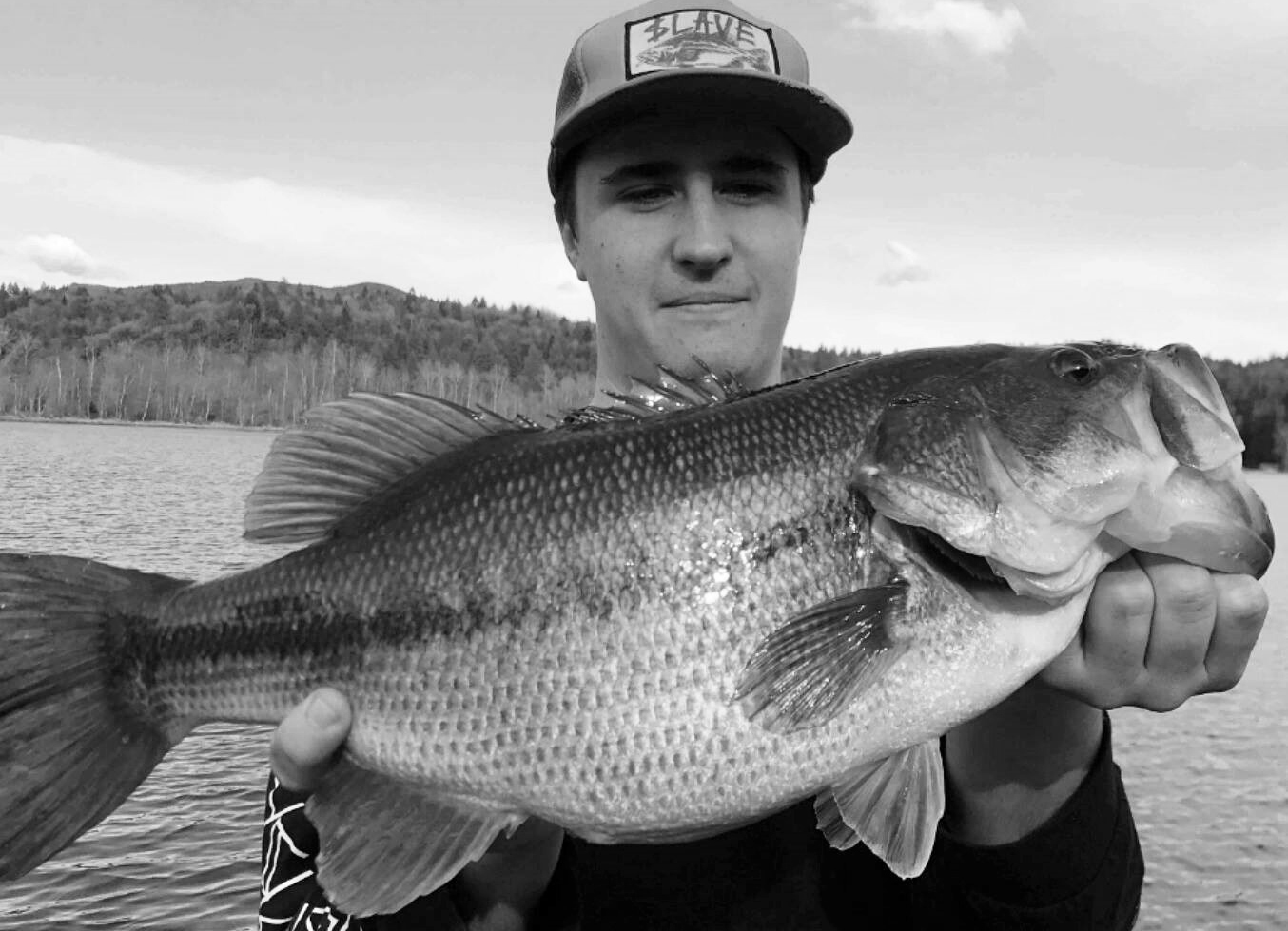 When can you fish for bass in BC? All year round? What's the law and weather?
The bass fishing is an unregulated fishery in British Columbia, there are no closure times and the only time I do not fish for bass is when our lakes get iced over which only happens two or three months out of the year maximum. I would like to see our fisheries and provincial government create times when it is illegal to catch and keep bass such as the spawn, but luckily for us BC bass fisherman, they do not receive an enormous amount of fishing pressure, so a lot of spawning bass are left alone. I personally do not fish for bedding fish and prefer to target pre or post spawn fish while the spawn is in effect.
How do you adapt to the season?
I adapt to the seasons by changing where/how I fish. I'm not going to go into detail on each season because that would take forever, instead i'm going to talk about the baits I use to fish each season to target the biggest fish in my lake every time I go out.
Spring : in the spring I fish mainly soft baits such as the baitsmith magnum, huddleston among other baits. I also use glides a lot during the post spawn to locate and catch some large fish.
Summer : Throughout the summer I mainly fish at night with big wakebaits and soft baits. During the day I focus on topwater, glides and boot tail soft baits to catch my fish
Fall : I throw almost everything throughout the fall, my favorite baits are the glide baits and large soft baits as those baits tend to elicit strikes from a larger caliber of fish. I still fish topwater and fast moving baits, but I usually let the fish tell me what they want
Winter : I keep it simple in the winter, big soft baits and big glides, because if i'm going to get one bite a day, I want it to be as big as possible and I feel these baits are the most effective tools in the winter to catch the larger and lethargic fish.
What's your plan in the future, what you dream to accomplish fishing related?
My goal in bass fishing is to catch the canadian record, I have had a few encounters with fish over the years up here that I feel would have been my goal. I finally have a well working boat with a fish finder this year and I plan on utilising that to help achieve my goal. My dream is to catch a canadian largemouth bass over 13 lbs, but I want to achieve my goal of breaking the canadian record before I truly focus on that, if it happens to be the same fish that achieves both of my goals, even better!